This past weekend saw some record breaking numbers in both the Greater New York Scholastic and the Greater Chicago Scholastic chess tournaments. Held on Super Bowl weekend, the events attracted over 2000 students to duel over the black and white squares.
New York, NY, February 4, 2020 — 1640 K-12 students, from over 280 schools, competed in the 54th Annual Greater New York Scholastic Team and Individual Chess Championships this past weekend (February 1-2).  Held at the New York Marriott Hotel at the Brooklyn Bridge, the event drew scholastic players from many different states for two days of hard battles.
Over 1600 player in many sections participated in the competitions
There were a variety of tournament sections, based on school grade and US Chess rating. Players of all skill levels, from beginners to FIDE Masters took place in the tournaments. It is the largest Greater New York Scholastic or any New York Scholastic Chess event.
Over 4000 chess games were played this weekend alone
The event was visited by the 13th World Chess Champion, Garry Kasparov!
Grandmaster Garry Kasparov with two young fans. On the right, KCF President and FIDE Senior Trainer Michael Khodarkovsky
Garry Kasparov making the Opening move of the top board of the High School Championship for FM Vincent Tsay, Young Stars Program student and former u12 World Champion. In the yellow shirt, TD Andre Harding making sure everything goes smoothly.
As one of the best players in the history of the game, Kasparov is a great inspiration for these young chess players. A funny incident happened in the top board of Junior High School: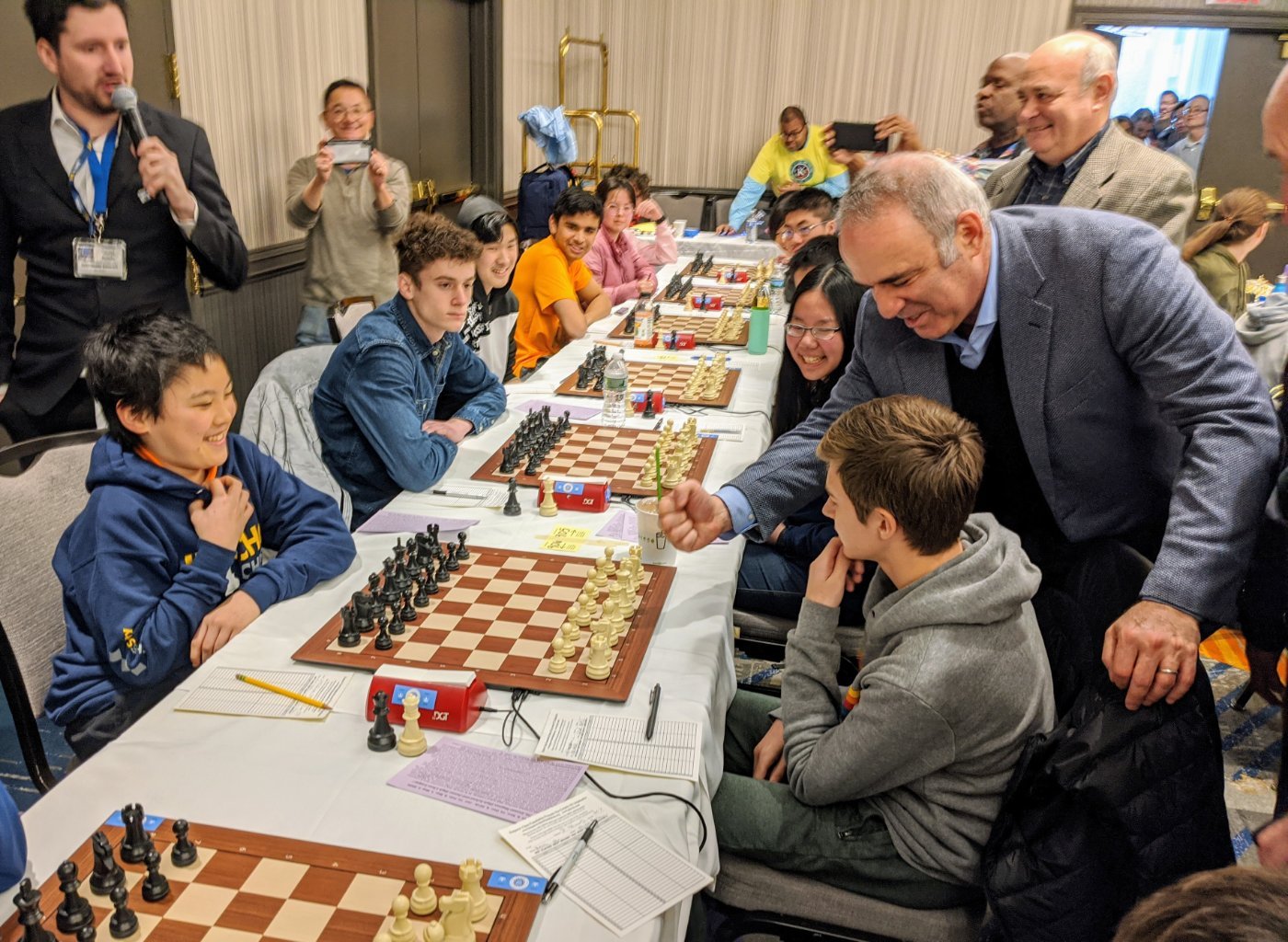 As Garry was getting ready to perform the opening move, tournament director with the microphone (pictured above, Danny Rhode) asked the player what first move the response was g4! The entire room of hundreds of kids started chanting "g4! g4! g4!", but alas, Garry couldn't be persuaded.
Many prizes were fought for
Garry Kasparov himself noted that KCF's flagship Greater New York Scholastic is growing every year, and it has become a landmark for schools and students from the Tri-State area.
The Championship Section Winners:
High School: FM Vincent Tsay, Manhasset, NY
High School Team: Jericho High School, Jericho NY
Junior High: FM Nico Chasin, New York, NY
Junior High Team: NEST + M, New York, NY
Elementary Co-Champions:  FM Liam Henry Putnam, Rocky Point, NY and Brewington Hardaway, New York, NY and Alexander Wang, Hillsdale, NJ
Elementary Team: Speyer Legacy, New York, NY
Primary Co-Champions: Daniel Kastioukevitch, Brooklyn, NY and Bobby Qian, Short Hills, NJ
Primary Team: Dalton, New York, NY
K-1: Kyle Dong, Elmhurst, NY
K-1 Team: Hunter, New York, NY
The event gathered the attention of news12, which did a segment on the tournament:
Chicago, IL, February 4, 2020 – More than 560 students from grades K-12 participated in Chicago's largest US Chess Federation rated tournament of the year – the 11th Annual Greater Chicago K-12 Championship. The competition was fierce, but at the end of the day this year's City of Chicago Chess Champions were crowned.
Tournament under way at the McCormick Place Convention Center, Chicago
The tournament is part of a Scholastic Championships Series of tournaments, spanning two-thirds of the nation. The event is made possible by the collaboration of Chicago Public Schools' Academic Chess program, Renaissance Knights Chess Foundation, Kasparov Chess Foundation, and sponsorship from the SBB Research Group.
The Championship Section Winners:
High School Co-Champions: Avi Kaplan – Lane Tech and Sreekar Gangavarpu – Edison RGC
High School Team: Walter Payton H.S
Junior High: Leon Cao – Whitney Young AC
Junior High Team: Skinner North
Elementary: Victor Rojas – MCC Academy
Elementary Team: Decatur
Primary: Alec Oseledets – Skinner North
Primary Team: Skinner North
About Kasparov Chess Foundation
Founded by World Chess Champion Garry Kasparov, KCF's mission is to bring the many educational benefits of chess to children worldwide by providing a complete chess curriculum and enrichment programs. The Foundation promotes the study of chess as a cognitive learning tool in curricular classes and after-school programs for elementary, middle and high schools, both in the public and private school sectors. The not-for-profit educational organization also organizes tournaments and competitions on a local and national basis. For more information, please visit http://www.kasparovchessfoundation.org.